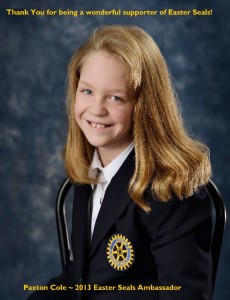 Hi my name is Paxton Cole and I am very excited to be this year's Easter Seals Ambassador.  Easter Seals supports so many important programs and I feel honored to have this chance to help other people with challenges like mine.
I am 10 years old and a grade 5 student at QueenElizabethElementary School in Kensington.  I live with my parents Ewen and Patricia and my sisters Ellen and Claya.   I have Cerebral Palsy and my parents tell me it is because my twin sister Ellen and I were born very prematurely.  CP is condition that affects my muscles and makes it difficult for me to walk without my walker or crutches!  My wish is to tell others to see what people with challenges CAN do and not what they can't do!!  "See my smile and my positive attitude not my walker".   I face each day with a smile and a positive attitude and I love to do what every other girl my age likes to do! I enjoy spending time with my friends and listening to music (especially ONE DIRECTION).  I love horseback riding with Joyriders and I am also a Girl Guide.  I can do anything I set my mind to sometimes I just need to figure out the Paxton way to do it!!
Thank you to the Easter Seals committee for giving me this awesome opportunity to help others and let everyone know that people who have challenges are just like everyone else!
I am very lucky to live in such a great community and Province, I receive a lot of encouragement and support and I feel that there is nothing I can't do.  I hope that with your help all people living with challenges can feel the way I do!!