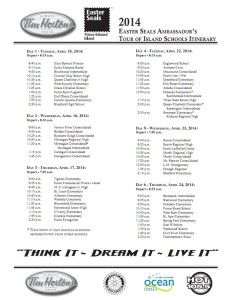 Beginning on Tuesday, April 15, 16 & 17 then the next week Tuesday, April 22, 23 & 24th – Can we beat Paxton's record year?
The 2014 Easter Seals School Tour is scheduled for April 15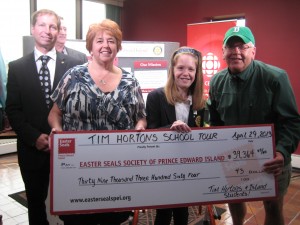 th to the 24th, 2014.  Our Ambassador and friends along with Rotarians will board the Tim Hortons Bus for the school tour.  65 schools in 6 days! TIP TO TIP
Since 1980 an important component of the Easter SealsSociety of PEI campaign  has been the Tim Hortons School Tour. The School Tour allows our Easter Seals Ambassador to personally bring the message of Easter Seals to other children.
Almost every Islander who has been in school after 1980 has, in the times it came to their school, participated in the Tour. It has allowed them to meet the Ambassadors, representing children with disabilities, and hear all the good reasons to support the Easter Seals campaign. The Tour has achieved a very high level of public awareness of the good work of the Easter Seals Society of PEI. That in turn greatly aids the fund raising efforts and therefore significantly contributes to helping people with disabilities on our Island.
In the first year of the tour, twelve schools in the Charlottetown area were visited and $2,800 were raised. In 2004, 65 Island schools were visited and contributed $31,000. During the 31 consecutive years of the tour program, more than $500,000 has been raised for the Easter Seals Society. In May 2004, the Provincial Easter Seals Committee and the Rotary Club of Charlottetown recognized the major contribution of Tim Hortons to Easter Seals.  Danny Murphy, franchisee of Tim Hortons/Wendy' s on PEI, was presented with a commemorative plaque and a Paul Harris Fellowship – one of Rotary's highest honours.