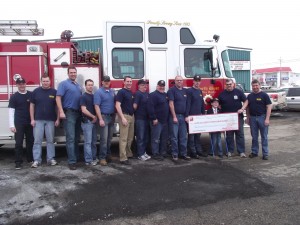 Saturday, March 3rd found the North River Fire Department teaming with hungry folks who had come out to support Easter Seals and have a tasty pancake breakfast cooked and served up by North River Fire Department.
Anson Grant, Luke's Dad, and the firemen donated all the proceeds from the breakfast along with donations from individual firemen and fire house.
Rumour has it there may be a challenge to other Fire Departments to raise additional funds.
$2106.10 raised!
Anson Grant – Luke Gaudet –
Kirby, North River Fire Dept. Chief