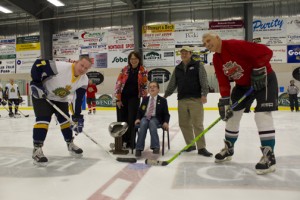 What a Game!
The Fire Department and the RCMP played an exciting hockey game and supported Easter Seals on Monday, March 26th, 2012 at 7pm at the Cavendish Wellness Centre in Montague.  Luke was there to drop the puck and cheer them on!
Thank you to the wonderful support of the community, fire fighters and RCMP and those that donated prizes.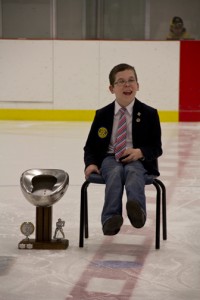 Prize winners for the Toonie Toss were:
1st Prize to Ron Livingston
2 Anne of Green Gables Tickets donated by the Confederation Centre of the Arts
2nd Prize to Robert Benoit
20% discount at Annear Trucking with $500 purchase donated by Scott Annear
Basket with tee shirt and hat donated by the Guardian
 3rd Prize to Lois Matheson
1 $50 Esso gas certificate donated by Wilson Fuels.
Thank you so much to Jamie Matheson and Colton Matheson 2010 Ambassador for pulling this all together!
All proceeds in support of Easter Seals PEI