Opinion By Gary MacDougall, The Guardian, February 12, 2011
Like her predecessors, this year's Easter Seals ambassador packs a powerful punch in spite of a frail body that doesn't always co-operate with the spirit trying to drive it.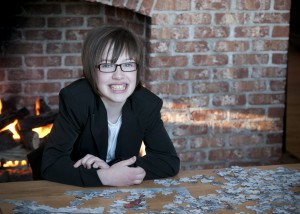 Two things become abundantly clear after spending a few minutes in 11-year-old Hannah MacLellan's presence.
It's obvious she hasn't been dealt a fair hand in a physical sense, but what she lacks physically she more than makes up for in spirit. Her smile, determination and her just 'do it' attitude are inspiring.
As she travels around the province during the upcoming 2011 Easter Seals campaign she will impress everyone she meets.
In addition to feeling inspired at this week's campaign launch, I also felt a bit chastened. Like all able-bodied persons, there are times when I don't appreciate the advantages that life has handed me.
Cerebral palsy makes it difficult for Hannah to move around and speak. However, despite the mighty struggle it takes to vocalize her words, Hannah easily captures her listeners thanks to her smile and obvious love of life.
All Easter Seals ambassadors have a campaign message. Hannah's is the following: "Believe in yourself … you will be amazed at what you can do!"
During this week's Easter Seals campaign kickoff a number of organizations made donations to the cause, including the NDP, which was represented by its leader, James Rodd. Rodd summed up the campaign kickoff best when he said he always takes away more from the event than he takes to it. Everyone in the room would wholeheartedly agree.