We can't thank Hannah enough for her dedication and leadership during the 2011 Easter Seals Campaign.  Hannah definitely lives her motto "Believe in yourself".
The Ambassador for the 2011 PEI Easter Seals Society of PEI Campaign was Hannah MacLellan. Her motto was:
"Believe in yourself – you will be amazed at what you can do."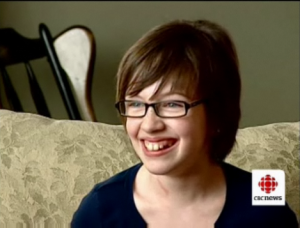 Hannah is an 11-year-old Grade 6 student from Pownal who loves to stay active by skiing, riding horses, cross country running and especially swimming.  Hannah is an active student who enjoys drawing, playing piano and listening to Taylor Swift.
Hannah's parents are Stephanie Drake and Rob MacLellan and she has an older sister named Abbey.
Read more about Hannah in this article by Jim Day written for the Guardian.