Paper Egg Campaign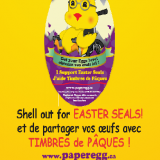 2013 Campaign – March 4th to March 31st
 2013 Retailers
Cornwall   Save Easy – Cornwall
Dominos –   Charlottetown
Lawtons Drugs/Friendly   Pharmacy – Charlottetown
Lawtons Drugs   – Charlottetown
Lawtons Drugs   – Montague
Lawtons Drugs   – Sherwood Centre
Lawtons Drugs   – Summerside
PharmaChoice   Sherwood Drug mart
Foodland   – Bloomfield
Foodland   – Summerside
Home Hardware – Stratford
The Medicine   Shoppe – Summerside
Easter Seals PEI and Easter Seals Canada have an interesting opportunity for you.  Our Paper Eggs campaign is beginning very soon and we are hoping you will become one of our supporters.  The campaign is a national marketing, awareness and fundraising project of Easter Seals Canada in support of local Paper Egg Campaigns across Canada, held by participating licensed members.
Paper Eggs offers retailers an effective public display of their community involvement and support. It creates interest and encourages retail customers to join in. As the campaign progresses through the month, the visual impact of a growing number of Paper Eggs adds to the level of awareness of the campaign, Easter Seals and participating retail outlets. Eggs are sold at locations for $2 per egg.
Guiding Principles
The national Paper Egg Campaign complements and supports participating Easter Seals provincial members.
All revenues generated at the local level remain at the local level.
The goal of the campaign is to generate awareness of Easter Seals and be a significant fundraiser.